TGIF! The weekend is finally here! And I couldn't be happier. That also means 1 day closer to celebrating the 4th of July. Here in Philly they always have a bunch of local events going on in light of the holiday for
Welcome America
in Philly. Welcome America happens each year here providing residence and visitors a variety of fun events and free entertainment to take part in for the celebration of the 4th such as the
Taste of Philadelphia
at Penn's Landing,
Philly @ the Movies
, the
Independence Day Parade
and of course fireworks. So there is definitely plenty to do and if you are into getting away for the day then there is always some action going on at the board walks of Atlantic City. The task is usually getting through the crazy traffic in order to get there! My best solution is if you are driving, try to get a early start on the road, or if you don't care for the long, anguish filled stop and go drive, then you can always opt for a ride on the
Greyhound
bus to AC. Sure, its not the most glamorous way to travel but, you can avoid the headache of driving, paying high tolls, burning up your precious gas money and worrying about pit stops at various rest stations. Instead, you can just sit back, relax, grab a good book, your Ipod, or pop in your favorite movie if you have a portable DVD player. Me personally, its up in the air on what may take place on July 4th but whatever it is, I'm sure it will be a great time.
Speaking of great times, an upcoming outdoor family gathering in the park is in motion. I've been asked if I'd like to do a little decorating. I've never done an outdoor gathering before but I happily obliged. But I later realized that I wasn't sure in which direction I wanted to go with the colors or theme. For me, a party isn't a party until you've established a color, theme or an idea that you can run with through out the event. While drawing a complete blank I went to the only place I knew would have great inspiration: the web.
I came across so many great ideas that it was hard to narrow it down to one choice so I sampled a few ideas from each favorite. Also, I learned that combining aesthetics with the rules of outdoor entertaining can be a challenge, but no challenge is too great that it can't be done, right? Most of the challenges were how to keep the food fresh and keep the bugs away while still maintaining a great looking set up. Here are a few handy tips that I found while online:
Citronella candle pots or torches are beautiful and practical. They help keep the insects away and look great. Because of their distinct smell, keep them away from food.
Try to spray the area for insects several hours before your guests arrive so the smell of insecticide doesn't linger in the air. If mosquitoes are in the air, have a can of mosquito repellant nearby.
Serve grilled foods immediately. Place cooked foods on clean plates that were not used to transport raw meat or seafood. Perishable foods should be eaten within two hours, or one hour, if the air temperature is over 90 degrees F.
Bottles of water (non-carbonated) serve double duty. When frozen, they keep the cooler cold and when thawed, are great to drink. Before freezing, pour out a small amount of water to allow for expansion.
Discard leftovers that have been sitting out for more than an hour or two. If the ice has melted in the cooler, discard perishables.
Make sure there is ample seating and shade for ill or elderly guests, or those with sun-sensitive skin.
Use colorful, disposable plates, cups and cutlery to save on clean-up time and for safety. A beach pail makes a great utensil holder at the end of a buffet.
Always locate food stations, guest seating and reception lines in the shade, under a tent or canopy if necessary.
Keep cold foods cold and hot foods hot. You've heard it a hundred times, yet we cannot stress enough the importance of safe food handling. Cold foods need to be stored at 40 degrees F or below - even in the cooler - and hot foods need to be kept above 140 degrees F.
Caution female guests not to wear spike heels to an outdoor event. The heels may sink into the grass or cause wearers to trip.
Top view all tips visit: http://www.partyamerica.com/category/party+planning+tips/outdoor+party.do




Here are some great inspirational party pics I found while online. I decided on bright summer colors like pink, orange, yellow and white as my party colors after some careful thought. I also wanted to incorporate a few Moroccan elements into the mix as well



Moroccan Lantern, Candles and a Beautiful Floral Arrangement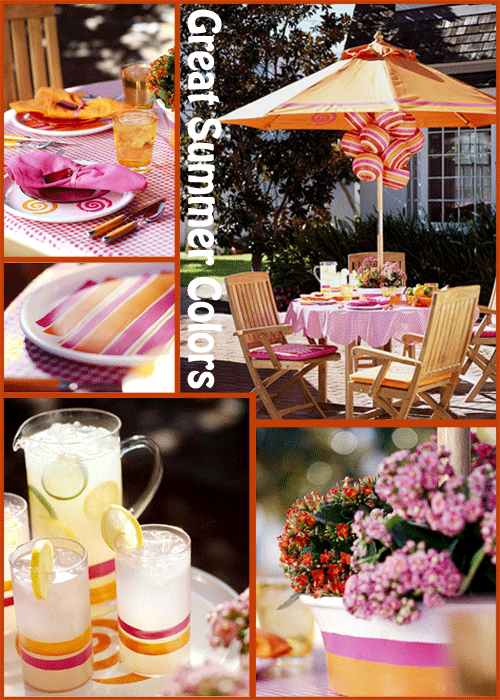 Pink and Orange are Bold, Bright Summer Colors
Beverage Table with a Variety of Lemonade and Iced Tea

Moroccan Style Table
An Inflatable Buffet is a Great Way to Keep your Food Cold
Beverages Everyone can Enjoy
Colorful Decor Pieces for Entertaining


West Elm Plates Adds the Perfect Pop of Color


Outdoor Picnic Tent
Delicious Adult Drinks


Useful Way to Decorate with Streamers
A Few Outdoor Necessities to Keep the Bugs at Bay





Moroccan Twist to an Outdoor Party



Paper Lanterns Illuminate any Outdoor Gathering